Chiropractic Care For Back Pain From Pregnancy in Winnebago IL
Chiropractic Care For Back Pain From Pregnancy in Winnebago IL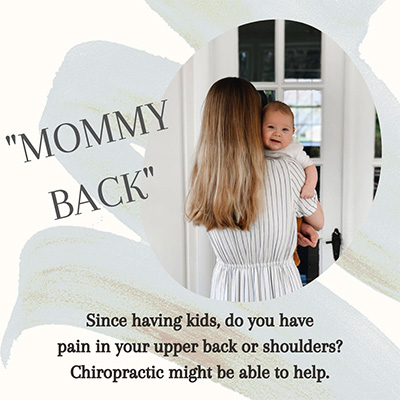 We meet women all the time suffering from "Mommy Back" in Winnebago IL. Usually, it is pain in the upper back and shoulder blades after having kids. As women, our shoulders are not as strong as men. So, when we do something that involves kicking our elbow out, it stresses our upper back and shoulder blades. Let's face it, almost everything you do with a baby or toddler involves kicking your elbow out.
---
Our Chiropractic care can help in Winnebago IL
Overtime, it causes so much stress that you have midback and shoulder blade pain. If you are having trouble, please reach out. Chiropractic care in Winnebago IL has helped many women just like you.
OFFICE HOURS
---
Monday
8:30am - 12:00pm
2:00pm - 6:00pm
---
Tuesday
2:00pm - 6:00pm
---
Wednesday
8:30am - 12:00pm
2:00pm - 6:00pm
---
Thursday
Closed
---
Friday
8:30am - 12:00pm
2:00pm - 6:00pm
---
Saturday & Sunday
Closed