Vertebra of the Week L5 in Winnebago IL
Vertebra of the Week L5 in Winnebago IL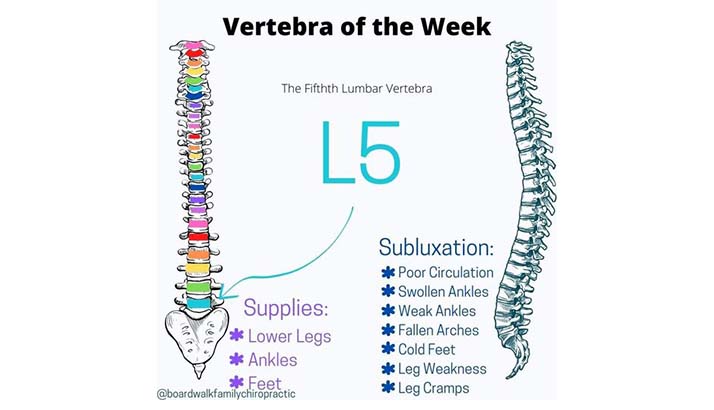 Remember that chiropractic care Chiropractic Winnebago IL L5 Vertebra keeps the nervous system firing to all parts of the body to prevent and reverse disease, improving discomfort along the way! Each area of the spine affects communication with specific areas of the body. If you have any symptoms like those listed here, your fifth lumbar (L5) vertebra may be subluxated!
---
Chiropractic Care Helps Your Nervous System in Winnebago IL
Nerves from this area supply:
If this bone is subluxated (misaligned) it can cause issues like:
Poor Leg Circulation
Swollen Ankles
Weak Ankles
Fallen Arches
Cold Feet
Leg Weakness
Leg Cramps
L5 becomes subluxated through things like:
Whiplash
Birth Trauma
Text Neck
Poor Posture
Athletic Injuries
Toxin Exposure
Stress
Please call Freedlund Family Chiropractic & Nutrition at (815) 335-1381.
OFFICE HOURS
---
Monday
8:30am - 12:00pm
2:00pm - 6:00pm
---
Tuesday
2:00pm - 6:00pm
---
Wednesday
8:30am - 12:00pm
2:00pm - 6:00pm
---
Thursday
Closed
---
Friday
8:30am - 12:00pm
2:00pm - 6:00pm
---
Saturday & Sunday
Closed